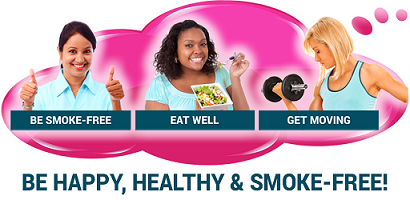 The See Me Smoke-Free (SMSF) app is designed specifically for women smokers who want to quit. SMSF will work with you to:
| | |
| --- | --- |
| | Quit smoking, be healthy and confident through the use of five-minute guided mental imagery recordings each day. |
| | Guided imagery is a visualization technique where you listen to audio recordings which suggest images, activities, thoughts and feelings. Use all of your senses while listening in order to immerse yourself in the experience. |
| | Set or change a quit date, motivate you with inspirational messages , and personalize the app just for you. You'll receive messages every day tailored to your stage of quitting. |
| | Find information and links to quit smoking, diet and physical activity resources. You can also find help, answers to frequently asked questions, and information about the app. |
| | Track goals for quitting smoking, eating a healthy diet, and increasing your physical activity. |
| | Stay motivated. You'll receive awards and share your successes with your friends. |
Help us test the See Me Smoke-Free mobile phone app
As part of this University of Arizona research study, you will:
- Need to be female and use an Android phone.
- Use the app and complete 3 brief 10-minute surveys.
- Use the app most days for 3 months.
- Be compensated $50 for your participation when you complete the final survey.
Your information will be kept completely confidential.
Enrolling in the study takes 15 to 30 minutes.
DOWNLOAD THE APP ON GOOGLE PLAY, AND SELECT "YES" WHEN PROMPTED TO PARTICIPATE IN THE STUDY.
For questions about the app or the study, please contact the University of Arizona study coordinator at seemesmokfree@email.arizona.edu or 520-626-4188.
Dr. Judith Gordon in the Department of Family and Community Medicine at the University of Arizona is conducting this study.
An Institutional Review Board responsible for human subjects research at the University of Arizona reviewed this research project and found it to be acceptable, according to applicable state and federal regulations and University policies designed to protect the rights and welfare and participants in research.